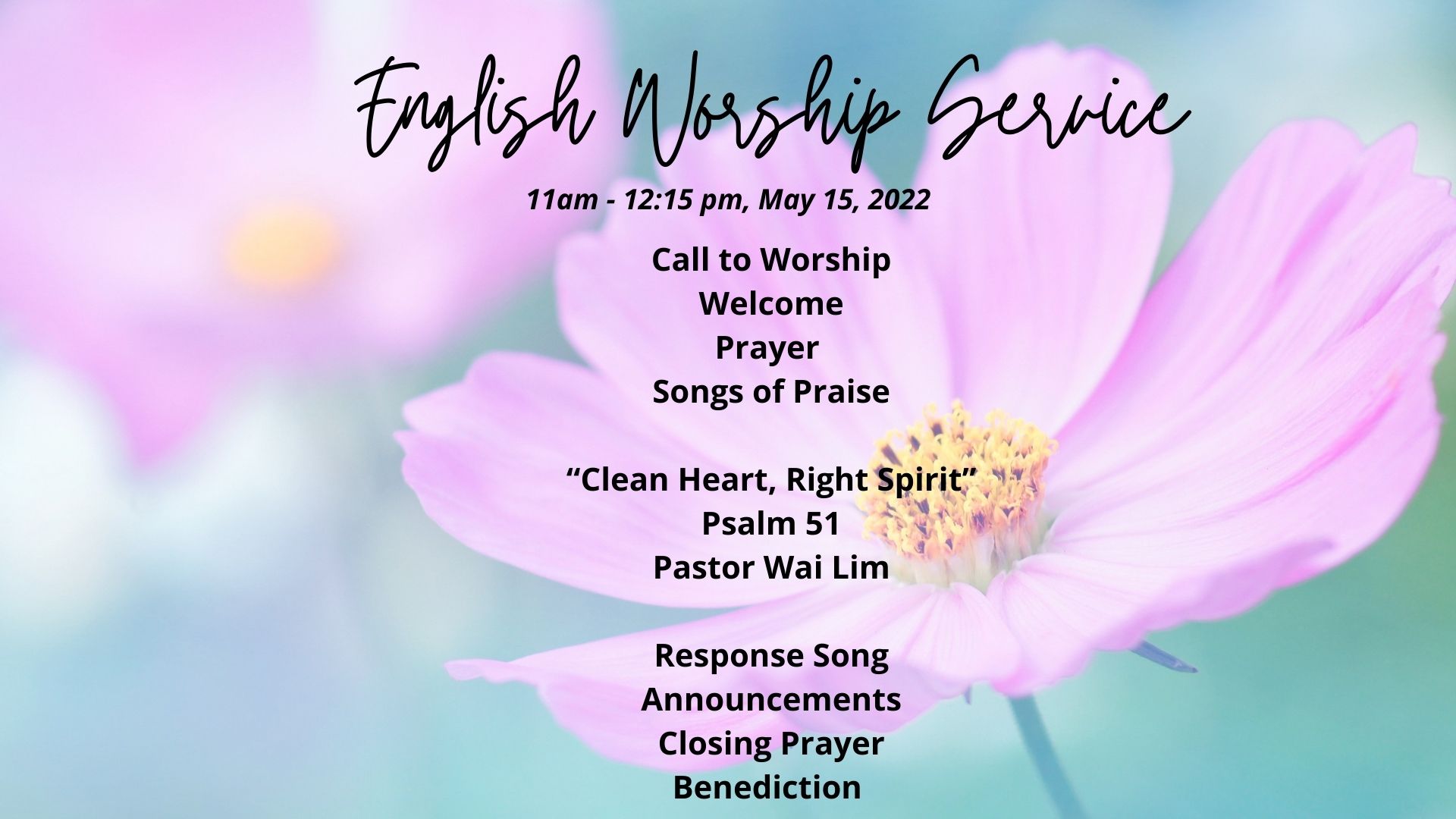 ~100 people who are spending 15 minutes a day, 5 days per week, meditating on their bibles & praying.~
We praise You, God, for. . 
Your unconditional and everlasting love.
the Chinese missions conference and council meeting this last weekend.
We pray for . . .
us to participate in the Lord's army, pursue Jesus our High priest, and persevere in personal sanctification and proclamation.  
Pastor Tan to lead our church well.  
us to be a praying church.
us to be faithful and fruitful in evangelism and discipleship.
Your protection and blessing as we gather for in person fellowship and worship.
peace with God and one another in Ukraine and Russia.
You to bear much fruit in the Central Asia short term trip, JT summer training camp, and world changers. 
Brother L's 5-year visa application to be approved soon and that they will have a fruitful meeting with us and brothers and sisters in different churches when they return in June.  
Manifest Christ…For His Glory   Make Disciples…Life-on-Life
 Announcements
Next Sunday's message will be by Pastor Wai Lim on Psalm 51.
Baby Bottle Bonanza starts today. Pick up a baby bottle to support the Women's Pregnancy Center. We will be collecting up until Father's Day, June 19th.
Come and pray at 9: 15 am in the library on the 1st and 3rd Sundays of the month and/or at 8:00 pm on the 1st and 3rd Wednesdays of the month in the library or on zoom.
Celebrate Senior Banquet 5/21, at 5:30 pm at church. Tickets are on sale now, between services and after English Worship.
Calling all college students, come to the college barbeque at church on Sunday, 5/22 at 5 pm to kick off a summer of fellowship.
Registration is open for JT Kids Summer Training Camp 5/31-6/3 for graduated 1st to 5th graders. Volunteers are also needed. Register on our church homepage.
Register for

JAM Houston 2022

, an annual music and worship camp for youth, 7/11-7/15 at New Heart Music Ministries. Visit the

 JAM 2022 page

for more info and to register.

Infant Dedication

will be on

6/19.The registration form is available on our church website. Please register by 5/29.
Register for D Camp (7/24- 7/27) and Camp Impact (7/27 – 7/31 on our church website. The deadline to register is 6/26.
KCCC welcomes all to worship in person. If you are unable, submit a request for a live stream link on our homepage. Visit our church website to see our updated Covid-19 response.
Go to crossroadsguide.org

to share and receive information on

employment opportunities.
KCCC is looking to fill the position of treasury assistant. See the job description and application form on our website.
Giving options

can be found

online

.