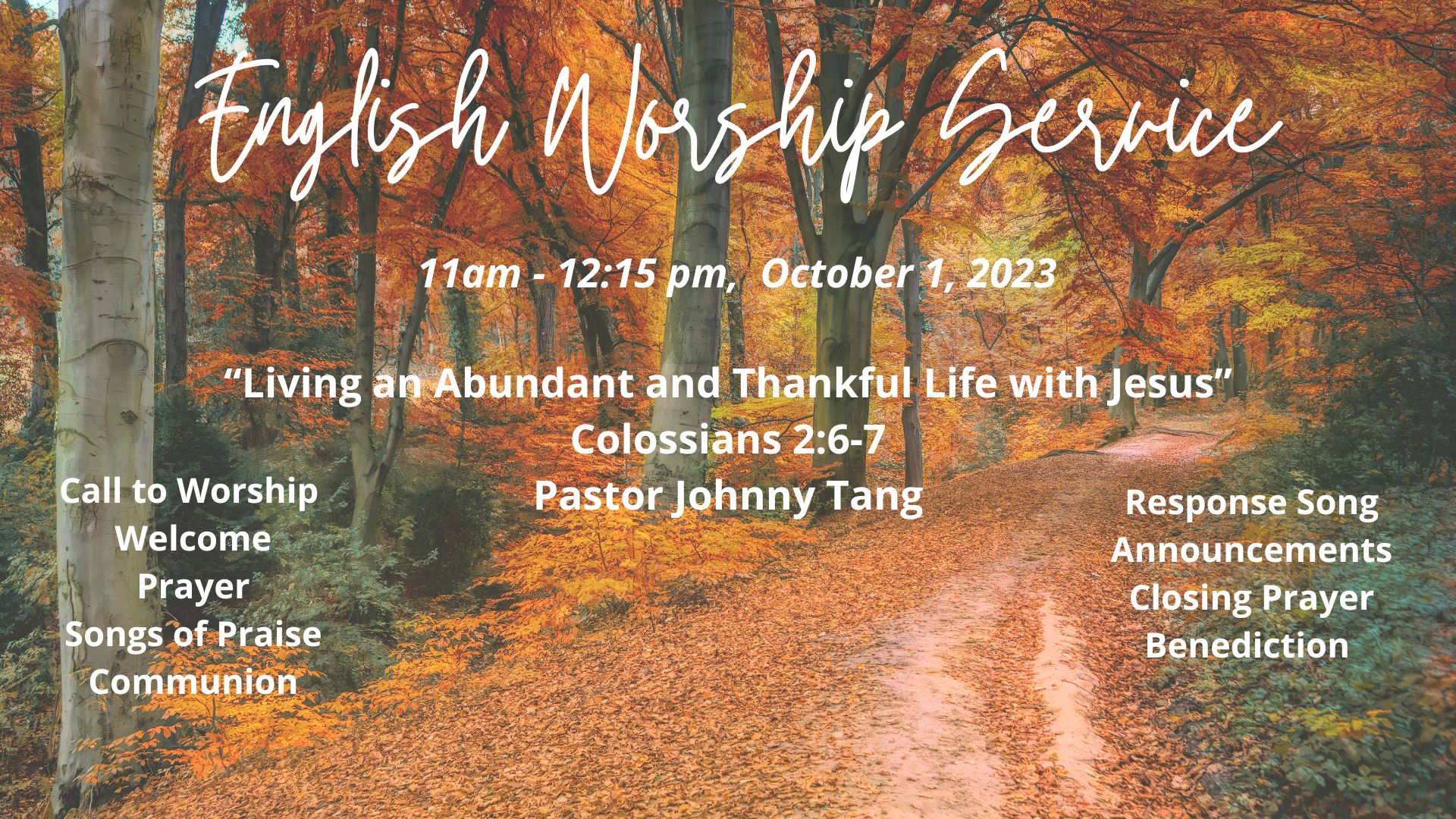 ~100 people who are spending 15 minutes a day, 5 days per week, meditating on their bibles & praying.~
We praise You, God, for…
Your heart for the nations and love for the stranger and sojourner.



We pray for . . .
us to love our neighbors in sacrifice, discomfort, and risk.




Minister Robert to lead our youth ministries faithfully.

revival in our hearts, families, church, and nation.   
us to reach the lost through training, strengthened devotional life, and meaningful events.   
You bear much fruit in our children's, college, young adult, and family ministries.    
peace with God and one another in Ukraine and Russia.   
You to work through Thomas Tao, the salvation of the ship crews they visited, and safety as they travel back and forth to the ship terminals.
Manifest Christ…For His Glory   Make Disciples…Life-on-Life
Announcements…
Next Sunday's message will be by Elder Ben Ho.
The Minibus Fundraiser starts today and ends on 11/30. We have a goal of $60,000.  If you would like to donate, please specify "minibus" on the memo line of your check.
We will be sending a Short-Term Missions team to Vietnam from 1/1/24 to 1/13/24. For more information contact Minister Robert.
For those going on the Cruise Retreat please stop by the lobby before or after service to give us your t-shirt size.
check-in

opens on the Royal Caribbean App on 10/4.

Save the date for a mandatory meeting at 12:30pm in Room 001 on 11/5.
Little Kids Training: free basic training to teach preschool kids. 11/5 and 11/12, 1:30 – 4:30pm. For more information and to register contact Pastor John/Catherine Chen or go to the website. Childcare will be provided.
The 2023 September Edition of Katy Light

is available online and in print, one copy per family.  

Come serve in the English Ministry!

If you have a heart for others, willing hands, or want to be a part of the church body, join us! We welcome all ages and will provide training. Fill out the form on the website or see Eddie or Debbie if interested.

English Sunday School is studying How to Talk About Jesus Without Being That Guy, by Sam Chan.  Join us on Sunday mornings in the library at 9:15am.
Pastor Wai will be on sabbatical from 8/1 to 11/1.
Go to

crossroadsguide.org

to share and receive

job opportunity

information.

Giving options can be found online.