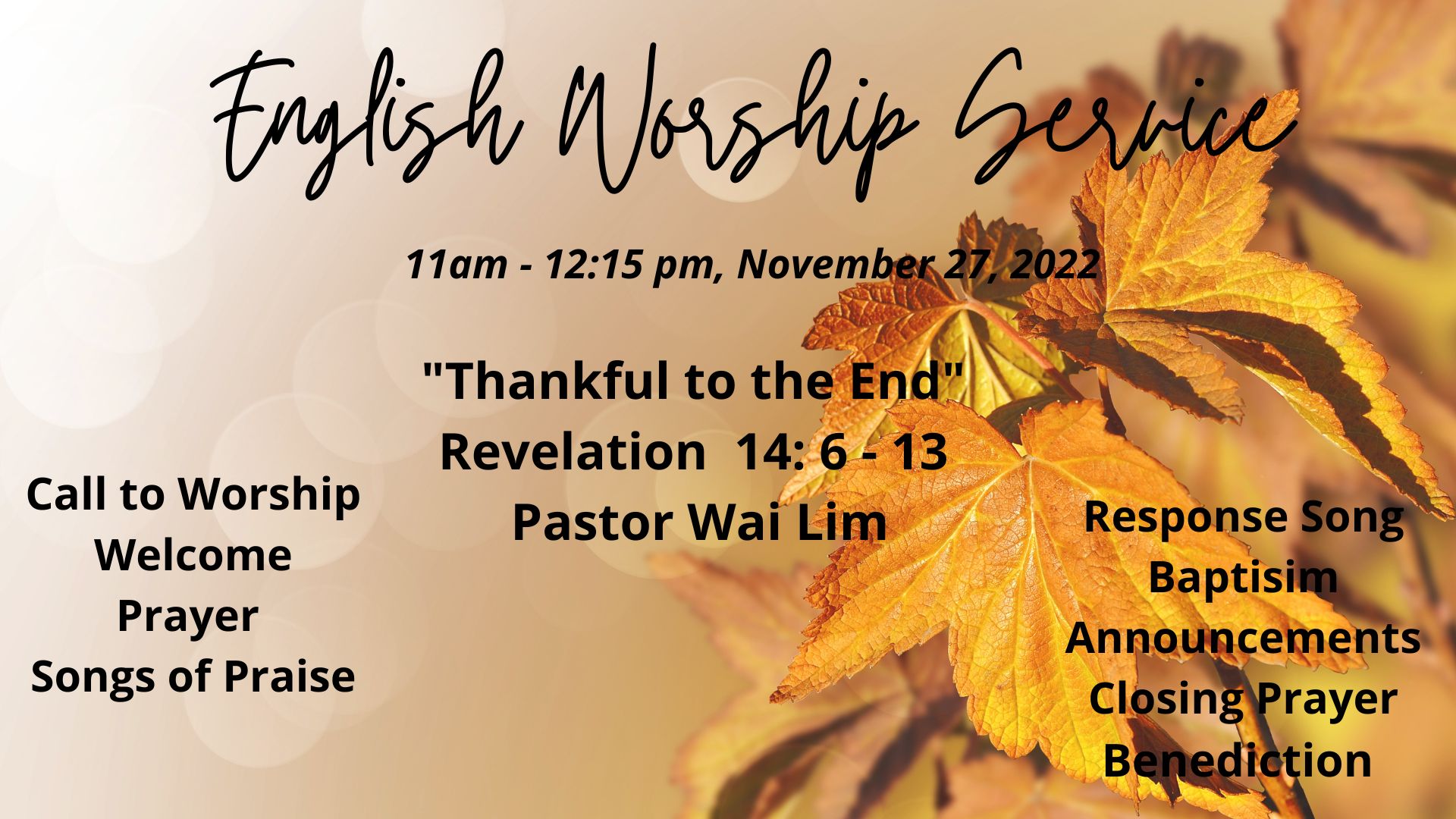 ~100 people who are spending 15 minutes a day, 5 days per week, meditating on their bibles & praying.~
We praise You, God, fo
You are our Redeemer and we will sing praises to You and to the Lamb.
all Your blessings this Thanksgiving.
We pray for . . .
us to be pure, follow the Lamb wherever He goes, and proclaim the truth of Your gospel.
Director May Lee to lead our caring ministries well.
those who have been baptized to grow strong in the Lord
unity and execution of our vision to reach the lost through training, strengthened devotional life, and meaningful events.
confirmation of the 2023 budget.
us to effectively follow up on new believers and those who have not recently gathered for fellowship.
revival in our own hearts, families, church, community, and nation.
organization, vision, and equipping workers in kingdom kids and kids ministries.
the planning and recruiting for our 2023 short term missions trips.
the travel safety of Thomas Tao's team from home to the docks/ships and the salvation of several ship crews they visited in the last couple of weeks.
 Manifest Christ…For His Glory   Make Disciples…Life-on-Life
 Announcements..
Next Sunday's message will be by Pastor Tan during our All Church Worship. Please join us for lunch and ice cream after the baptismal service to celebrate our church's sweet 16th anniversary on 12/4. 
Baptisms today at 12 pm: Abbie Long
To appreciate our SS teachers, worship teams, MCG leaders, & volunteers, cake will be served during lunch today, 11/27.  
Please check your email for the membership meeting ballot to confirm the 2023 budget.

If you did not receive the ballot, contact the office at

office@katyccc.org

or come by the office by 11/30.

Livestreaming will end after today.

We will continue with recorded sermons that will be available the following Wednesday.

Starting Sunday 12/4

, worship services will be in-person only.

All Church Worship Service on 12/4 at 10 am.

There will be no Sunday School or children's programs. Please have your children join the All Church Worship Service.

May Lee, our Caring Director will retire on December 25. We thank God for her more than eight years of service and ask for His blessing on her future steps. 
Come and pray

at 9: 15 am in the library on the

1st and 3rd

Sundays of the month and/or at 8:00 pm on the

1st and 3rd

Wednesdays of the month on zoom.

Baptisms will be held on the following dates: 11/27 at 12pm – Abbie Long (English) and 1:30pm (Chinese), 12/4 at 11:30am – Eliana, Agape, Jon, and Nehemiah Chen (Children), 1/1 – Matthew Tsang.
KCCC welcomes all to worship in person. If you are unable, submit a request for a live stream link on our homepage. Visit our church website to see our updated Covid-19 response.
Go to

crossroadsguide.org

to share and receive information on employment
opportunities.

Giving options can be found

online.